My two biggest babies kids started a new school year this morning! They are both very excited for the new year, and I'm excited for them (albeit also experiencing a slew of other emotions). I love having my kids home with me for so many reasons, and it's always difficult to send them off to school. Don't get me wrong, I appreciate the "break" (can it be called that when there's still 2 littles at home?), and the teacher in me just loves school. But, it's hard to give up control and to know that they are spending more waking hours away from me than they are with me, and it's especially hard for me that they are in a public school. But, God is there with them. I know it and I feel it. He doesn't reserve Himself only for the private school kids. He is before them, behind them, and in their classrooms with them. He is present and has greater control than I can ever dream of having. These two precious babies (oops I did it again) kids are not alone.
Caleb is in 2nd grade at Fox Ridge, and his teacher is Ms. H. Last year was a huge learning year for all of us (after homeschooling for his Kinder year, we both had some learning to do!), and I am eager for a fresh start. Our eldest is an eager learner, and said that he is most excited about Science this year. He loves facts and trivia and reading and recently plowed through the Encyclopedia Brown books Auntie Heidi got him for his birthday. I pray that his mind continues to soak it all in, and that he learns discernment with all he encounters. He enjoys art and creating and I pray that his teachers always see and encourage his creativity. He is social and loves to play with his friends, and I pray that this year is one in which he learns more about being a good friend to others. Our Caleb is silly and energetic, and I pray that these traits are channeled into positive things. ;) Most of all, I pray that this year will be another one of growing closer to Jesus, and to having a bigger understanding of His love.
At backpack/meet-the-teacher night.
Our little lady is in Kindergarten at Munhall. Her teacher's name is Ms. N. She is pretty much excited about anything and everything school-related. Unfortunately, because Fox Ridge isn't offering 1/2 day Kinder this year, she will be at a different school than Caleb. While it's disappointing that they will be at separate schools, I am so glad that we still have the 1/2 day option. While she would do great in the full-day program, and would prefer to be at school all day if it was her choice, we are taking full advantage of the opportunity to have her home with me in the afternoons for one more year. One more year of greater influence from us. One more year of spending the majority of her days playing, learning at home, and arguing hanging out with her little siblings. One more year of just being little before full-time school, which will be the norm for the next many many years.
At backpack/meet-the-teacher night.
My babies (I can't help it!) big school kids.
With their good friend, E.
Meredith was so excited for the year to start, but she was also a little nervous (though don't expect her to admit it!). This morning, she woke up at 5:30 am, which is very unlike her. Thankfully she fell back asleep until I had to wake her to get ready for her special day. And at the bus stop this morning, she told me that her tummy hurt a little.
Rewind a bit...last night, I read The Kissing Hand to the kids, and drew a little heart on Meredith's palm (Caleb opted for an imaginary heart!). I told them that if they felt sad or unsure during the day, they could put their palm to their cheek and be reminded of how much I love them.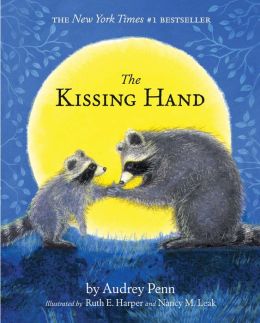 So this morning, when she told me that her tummy hurt, I reminded her of her "kissing hand" (if you aren't familiar with this story,
check it out,
it is so sweet). She immediately put her palm to her cheek and smiled. She told me that her tummy felt better. Doesn't take much more than that to make a momma melt. My sweet girl....she tries to be so tough and independent, but she can't help it that she is a 5 year old little girl who was about to get on a bus without her parents for the first time.
It also helped that her amazing brother held her hand all the way on to the bus. He was so sweet and caring with her and I am thankful she has him as a big brother.
And all nerves aside, she was overjoyed to be on the bus. She sat in the very front seat and was all smiles as it drove away.
I was so excited to see her after school. She walked off of the bus like she's been doing it all her life, and was so proud to show me her folder and its contents (which included a little project that they did which went along with the Kissing Hand book, that her teacher also chose to read today!)...I've been getting tidbits of information about her day (she is not quite as forthcoming as Caleb has always been about his school days), and her favorite parts of her first day were playing with some balls that had lines on them (?) and her teacher reading The Kissing Hand.
The red bracelet was a reminder of her bus number...I assured her that she can take it off now that she's home, but she just as confidently assured me that her teacher told he she needed to keep it on, possibly for forever. ;)
I love this next picture. The quality is awful, but the moment is treasured. Caleb ran off the bus with a huge smile on his face and all but tackled me. He had a great day, and I am so glad.
Tonight, we went with our neighbor friends to a nearby park for a picnic and some play. All of our husbands were at work late, so it was a great way to pass the evening. I am so thankful for these friends and their parents. We are blessed to have moved in to such a wonderful neighborhood, and it's so fun to watch these sweet kiddos grow.
Sleepy Norah with Mrs. Beth.
Missing Baby A.
All the kids are a little very obsessed with bugs and all things creepy crawly. Last week, one of our backyard tables was completely covered in cicada shells, and the kids are constantly looking under rocks and bricks for anything they can catch and make a home for in their little bug catchers. In true form, they were ecstatic to come across this little guy tonight on our walk.
And, just because I think he is so handsome.
Hooray for firsts. And seconds and thirds....!